The City Lodge
Lodge No. 5955

Meeting at Freemasons' Hall, Crane Street, Salisbury, Wiltshire.
Meets at 6.00pm on the third Monday in every month (except May, June, July and August)
Installation at March meeting when the Lodge Tyles at 5.00pm
A Picture Paints a Thousand Words
Words were plentiful at The City Lodge meeting on the 15th April 2019 as the Worshipful Master was presented with a Painting of the Lodge Banner by Bro Jason Finlay.
Bro Finlay contacted artist WBro Ron Baker (PPrAGDC Bucks) who offers this service for a charity donation to a local Charity. Money was raised for the Loganberry Trust.
WBro Baker, a former Grand Lodge Orator also gave a talk entitled "Wands, Rods or Asherah in whose hands NOW and WHY" which was well received by the Brethren in Lodge.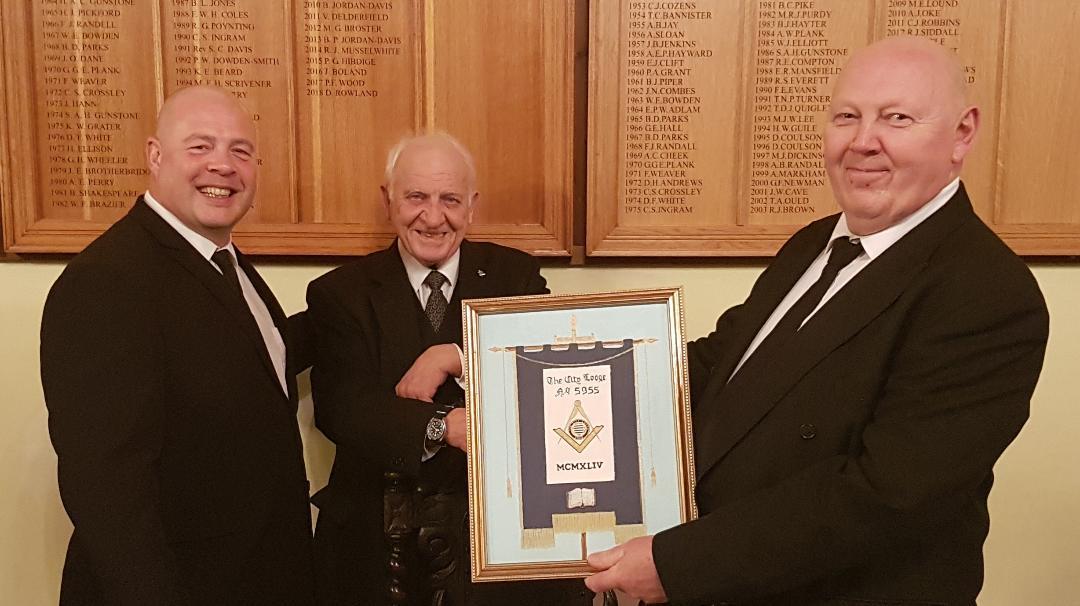 The Picture is shown being handed to our Worshipful Master WBro Kevin Tedd by WBro Ron Baker (centre) with Bro Jason Finlay.

Christmas is a time for giving......
And for Christmas 2018 Bro Jason Finlay, his wife Stephanie, daughter Megan and Son Joshua collected items to distribute to those who are homeless or in need of comfort and support. 
This is the fifth year the family has supported the homeless and 'rough sleepers' in and around Salisbury. The first year started out by distributing Christmas Meals and upon seeing how this helped, the folowing Christmas the family went out and bought food and toiletries which they distributed. The Finlay's also organised a collection for Soldiers Off the Street (designated SOS) which is a national charity, again through many amazing friends and many supporters they managed to collect several dozen large bags of clothing and approximately 20 sleeping bags to distribute and provide comfort and warmth.
In subsequent years Jason and Stephanie encouraged others to donate items such as food, bedding, clothing, toiletries, sleeping bags, small gifts and even cash to help the homeless. Jason's military background led them to Iconcentrate their efforst supporting ex-service personnel. Today the emphasis is much more general andthey now provide help to all the homeless shelters in Salisbury. 
Distribution has become a real logistic challenge and the parcels are distributed by Jason and his family on Christmas Eve and they are accompanied by a great bunch of friends and neighbours. 
Communication is vital to encourage others to just stop and talk to the homeless, maybe buy them some warm food and drink and let them know they are not forgotten.
Nobby takes centre stage......
On Friday 5 October Immediate Past Master of The City Lodge No.5955 Bro David Rowland and his wife Rosemary presented a cheque for £2284 to Alex Hill, Chair of Trustees for Wilton Riders for the Disabled Association (RDA). The Wilton Branch was David's nominated charity from the previous Masonic year, when he was in the chair.
Centre stage stealing the show is ''Nobby'' the horse and his rider Olivia. Wilton RDA is entirely self funding, volunteer staffed and relatively unique in that it does not charge its disabled customers to use the facility.
The amount raised was a bit under target due to the Ladies Festival being snowed of by ''The Beast from the East'. However, Wilton Riders for the Disabled Association were delighted to receive the cheque which they will probably use towards their next project of getting a ''heavy carrier''
Picture and words by Stephen Jenkins
City Lodge help Canons House
Canons House in Devizes is a Wiltshire Council provision offering hort term breaks for young people who have a severe learning disability. Many of the children who stay at Canons House have complex physical disabilities and require specialist equipment and two to one care. It is the only provision for families in Wiltshire to offer this service.

The house is set in a quiet location in Devizes, enjoying extensive outdoor space including a wooded area which acts as a sensory garden. Sadly the sensory garden had become very overgrown and was considered to be unsafe for the children to use and had been closed.

The Chair of Friends of Canons House, which raises funds to provide activities to enhance the children's stay at the house, used her connection to a member of City Lodge to ask if they might help to bring the garden back into use.
On Sunday 20th August six members of the City Lodge with their families and friends responded to the challenge, loading strimmers and other gardening equipment into a coach provided by Brother Kevin Tedd, junior warden of The City Lodge and headed to Devizes. The weather was perfect for the massive gardening challenge being slightly overcast but staying dry.
The sounds of strimming filled the woodland, and a constant flow of wheelbarrows full of cuttings made its way through the garden to the increasingly mountainous compost heap. Slowly but surely a usable garden became recognisable with pieces of sensory equipment lost amongst the weeds being found and brought back into use, even some of the volunteers couldn't resist a play. Further discoveries included a pond, raised beds and a long forgotten chicken house. After three hours of hard work the transformation was complete and the garden was once again a tranquil shaded space with equipment to stimulate the senses of the children as well as sounds of wind in the trees and stunning views across local farm land.
Two residents of the house, Isobel and Seth, came to inspect the work and gave it their seal of approval. The staff were delighted to be able to work with the children in the garden space again, something which had been sorely missed.
Brother Kevin Tedd has decided to raise money for them during his year as a worshipful master.
John Boland welcomes son Adam into Freemasonry.
There are many memorable events that occur in a Freemason's journey through life, none more so than when a father is able to welcome his son in to the fraternity. Bro John Boland of The City Lodge No. 5955 did just that when he had the pleasure of attending the Initiation of his son Adam into the Ronaldshay Lodge No.3376 in the Metropolitan Grand Lodge of London at Freemasons' Hall in London on Thursday 16th February 2017.

Bro Maurice Lound of Stonehenge Lodge No. 6114, also attended having known Adam since birth.

The Worshipful Master conducted a meaningful and personal ceremony, delivered in a sincere but friendly manner.

The Lodge dined at the nearby Freemasons' Arms and enjoyed a great meal in friendly surroundings.

Bro John said "it was a very special evening and I'm delighted my son was accepted into a friendly and caring Lodge, I know he will enjoy his Masonic life and am looking forward to his first visit to my Lodge."
Talking Heads comes to City Lodge
The 568th regular meeting of The City Lodge on Monday 18th January was to prove to be rather special for two reasons.
Firstly, the Lodge welcomed members of the Holy Royal Arch to Salisbury where they presented 'Talking Heads'- a playlet designed to inform and encourage membership of the Royal Arch.
The presentation was eloquently narrated by Bro Colin Cheshire with starring roles being played by Bro's Rick Whitehead who played a member of a Royal Arch Chapter, and Richard Noon who appeared as an inquisitive Craft Freemason. Almost 50 Brethren were in attendance and all enjoyed the performance which was given with authority and good humour.
Following the Royal Arch presentation Brethren adjourned to the dining room for The City Lodge Burns Night festive board complete with Scottish piper and of course the famous haggis. In conformity with tradition the haggis having been presented to the assembled gathering was addressed by Bro Ian White, who performed the duties of his office in a most theatrical and expressive manner.
Supper followed a tried and tested format and consisted of cock-a-leekie soup; haggis, neeps and tatties; tipsy laird trifle: cheese and biscuits followed by coffee. The feast of good fare was enjoyed by all the Brethren.
The Master and Brethren of The City Lodge are confident the Talking Heads presentation will encourage Master Masons to consider the Holy Royal Arch as part of their Masonic journey.
It's 50 Not Out for Ken
Peter Winton the Deputy Provincial Grand Master presented Bro Ken Morrison with his 50 year award on a recent visit to The City Lodge No. 5955.
Ken was Initiated in to Backwell Lodge No. 7964 in September 1965; Passed in November and Raised the following February.
He had an enjoyable and successful Masonic career in his mother Lodge, but due to personal circumstance moved to Salisbury and on the 15th January 1973 joined The City Lodge. At the time Bro Edward Mansfield occupied the Chair. Bro Ken was proposed by Bro Fulford and seconded by Bro Roy Compton.
Back to The City Lodge. Brother Ken was a keen ritualist and took on some tricky pieces such as the 1st Degree Tracing Board which he presented on a number of occasions. Ken also served as the Lodge Treasurer for 10 years between 1998 and 2009 and kept a tight control on the books.
A Tribute from Bro Roy Compton
It is my privilege and pleasure this evening to say a few words about WBro. Kenneth Sinclair Morrison, and to congratulate him on your behalf for completing 50 years in Freemasonry.
I am sure that the Dep. PGM will give an account of his Masonic achievements, and I will fill in the few personal details that I have managed to glean.
I say glean, because Bro Ken is a very private person and over the years he has kept it so. However with the aid of Google, the local press, Parish Records and the Freedom of Information Act I have managed to gather a few details.
Born in Malaya on the 4th December 1927. His father was a rubber planter and of course we can imagine the idealic life he enjoyed, the time came to consider education and the nearest English School was in Sumatra – many miles away. No planes just ferries and trains – but with bags packed Ken was sent off to school, quite an adventure for a young lad.
Ken's father was concerned about the International situation, and decided to return to England bringing his to live in London. War did break out in 1939 and again with his bags packed, complete with his gas mask, Ken was evacuated to Newbury to complete his education at Newbury Grammar School.
As a schoolboy in Newbury there was not a lot to do in the school holidays, and even less in Burham where the family now lived. To earn a few shillings he studied the dark art of mole catching which it has to be said wasn't very lucrative. A growing lad fast approaching 18 he was called to the colours and did his initial training, as did many of us, in the delightful military town of Colchester, where upon completion of his training he was posted to an RASC company which quickly recognised his talents putting him in charge of the company's accounts and soon made him a Sergeant, and there he stayed.
As a young squaddie, stationed near Bratten the village school used the school for R & R and it was here that he met the lasting love of his life – Barbara.
He was demobbed in 1949 and resumed his life long love of Barbara and they were married in Bratton Church in 1950.
Apart from producing two sons whilst in Chippenham and establishing himself with General Accident in Chippenham, he kept himself very much to himself.
In 1969 my company had a fire, which of course created Insurance claims and the need to find another company who would accept the burden. Another well known brother at this time was Bro F Fulford who had been doing all my motor Insurances. Bro Fred was a partner in E L Dewey, who some of you may recall had offices in this same street.
It was about this time that General Accident appointed a new Area Representative – non other than K S Morrison, young, keen and eager to establish himself, meet the local merchants and drum up some business and impress the Area Manager. And so Bro Ken and I met – so we have known of each other since 1970, both Freemasonry and business.
Ken and Barbara, both keen golfers, joined the South Wilts Golf Club and Ken managed to hole in one on the ninth – an expensive experience he never repeated!!
It gives me a great deal of pleasure, on behalf of all the Members of The City Lodge, to congratulate WBro Ken on reaching yet another Masonic Mile Stone, and may he live long to enjoy the next 50 years.