United Grand Lodge of England
From the four Lodges which formed Grand Lodge in 1717, Freemasonry under the United Grand Lodge of England has grown to an organisation of over 250,000 members and over 8,000 Lodges. Lodges meeting in London (an area generally within a 10 mile radius of Freemasons' Hall) are administered by the Metropolitan Grand Lodge of London, which is headed by the Metropolitan Grand Master.
Lodges meeting outside London, and within England, Wales, the Isle of Man and the Channel Islands, are grouped into 47 Provinces, whose boundaries often correspond to those of the old Shire Counties, with each headed by a Provincial Grand Master.
Lodges that meet outside England, Wales, the Isle of Man and the Channel Islands are grouped into 33 Districts, with each headed by a District Grand Master, five Groups (ie: currently too small to make up a District), with each headed by a Grand Inspector, and 12 Lodges abroad which are directly administered by Freemasons' Hall.
Membership has included men who have distinguished themselves in many aspects of British life, including the world of science, medicine, sport and entertainment to name but a few. However, what has always been true of Freemasonry is that it represents every sector of society reflecting the social, religious and ethnic composition of our diverse society.
Growth continued throughout the 19th and 20th centuries, but Freemasonry suffered under the rise of facism particularly in Nazi Germany, where many Freemasons were imprisoned and murdered. After the second world war, Freemasonry became excessively private, withdrawing from public view and seeking solace in the company of like minded individuals. There was little if any contact with the media and when errors of fact were reported no attempt was made to issue denials or correct such errors.
Today, with a policy of transparency and openness, Freemasonry is once again very much part of the community. Each of the 47 Provinces and London has its own information officer dealing with the media, and there is a Communications Department at Grand Lodge. In addition The United Grand Lodge of England and many Provinces including Wiltshire have their own publicly accessible web site.
The Book of Constitutions (rule book) has been in the public domain since the first edition was published in 1723 and can also be purchased from:-
Freemasons' Hall, Great Queen Street, London WC2B 5AZ.
"We are a unique members' organisation which has thrived for over 300 years. Having no political or religious affilaitions, we comprise members of all ages, races, religions, cultures and backgrounds. We gather in our individual Lodges throughout the country where we have ceremonial traditions which encourage us both to be more tolerant and respectful and actively to fulfil our civic and charitable responsibilities; we also make time to eat, drink and meet together, and form lifelong friendships."
Freemasons' Hall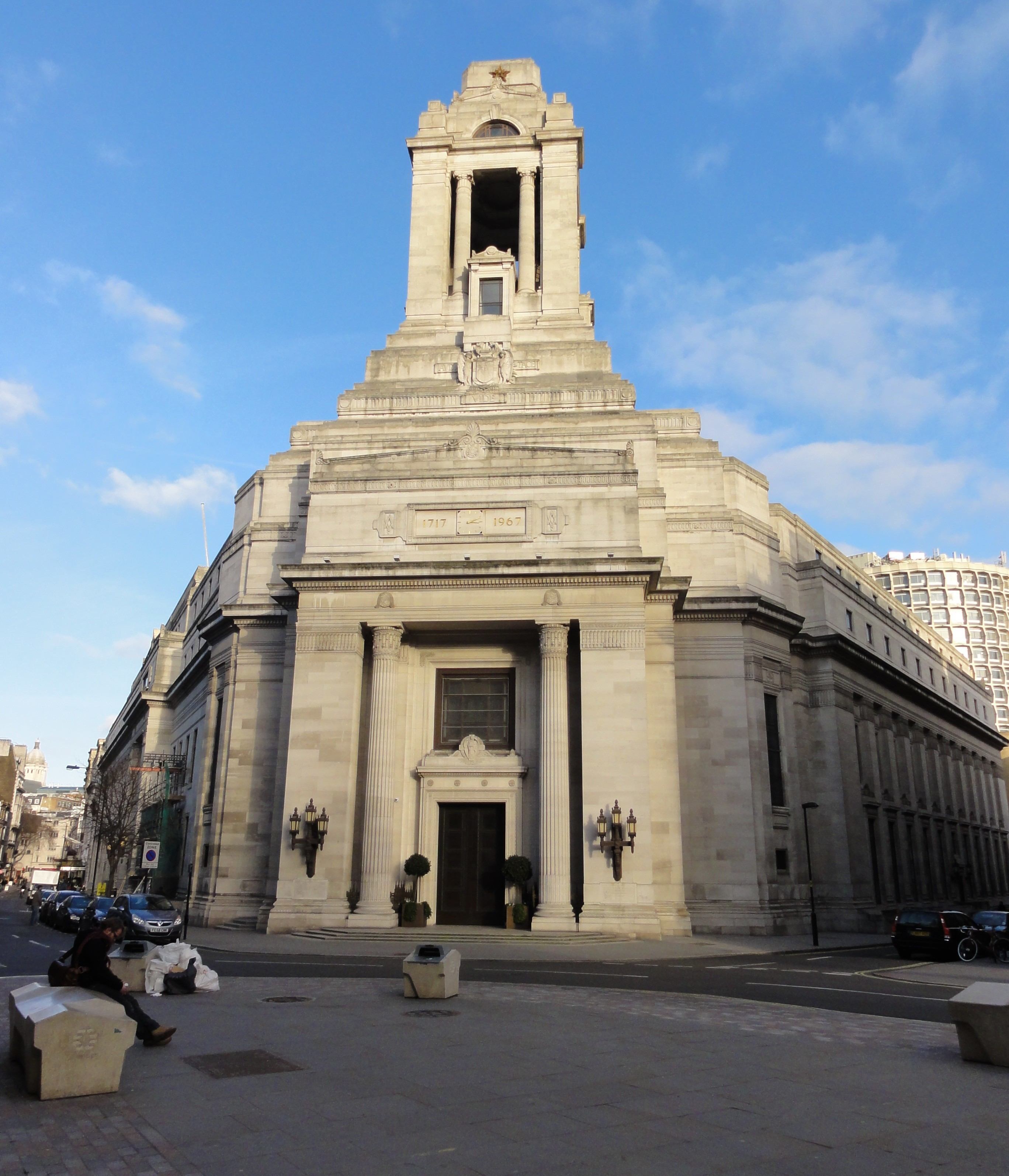 Situated in the very heart of London, close to Covent Garden and the West End, Freemasons' Hall was built between 1927–1932 as a memorial to the Freemasons who died in the First World War, it is one of the finest Art Deco buildings in England, and is now Grade II* listed internally and externally.
In addition to the Grand Temple (seating 1,700) there are 21 Lodge Rooms, a Library and Museum, Board and Committee Rooms and administrative offices.
Freemasons' Hall is a popular venue for the annual London Fashion Week and its elegant surroundings have been used in the filming of scenes for television and large screen; most notably as the headquarters for the team in 'Spooks'
The Library and Museum of Freemasonry houses one of the finest collections of Masonic material in the world. It is open to the public, Monday to Friday, free of charge.
Every year over 100,000 visitors are welcomed to Freemasons' Hall - why not make it your destination of choice when you next visit London?
Integrity
Freemasonry is a society of men concerned with moral and spiritual values.
Freemasonry provides a structure to instil in its members a moral and ethical approach to life: its values are based on integrity, respect, friendship and charity.
Friendship
Freemasonry provides the common foundation for friendships between its members, many of which will last a lifetime.
At the same time members
are urged to regard the interests of the family as paramount.
Respect
Freemasonry brings people together irrespective of their race, religion, background or any other perceived differences that can divide us as a society.
Freemasonry also teaches concern for people, care for the less fortunate and help for those in need.
Service
Whether participating in events, fundraising for a charitable cause or volunteering for public or community organisations, service is at the very heart of Freemasonry.
Our members make valuable contributions by donating time, resources and skills.