Lodge of Remembrance
Lodge No. 4037
Meeting at The Masonic Hall, The Planks, Swindon SN3 1QP, Wiltshire.

Meets on the first Wednesday in every month at 6.15pm (except May, June, July, August and September)
Installation meeting in February when the Lodge tyles at 4.30pm
A VERY PROUD FATHER!
Brother Stephen Berry who was installed as Worshipful Master of the Lodge of Remembrance 4037 in February of this year, was both delighted and very proud that his first ceremony in March was to Initiate his 21 year old Son Joseph – who had recently graduated from University. This was a momentous occasion for both Steve and Joseph. What is more, due to circumstances, Steve had the added pleasure of passing Joseph to the degree of a Fellowcraft the following month in April. However, it is most unlikely Joseph will be raised to the degree of a Master Mason during Steve's year as Worshipful Master.


Pictured in the photo from L to R is; Brother Ron Chambers, Brother Joseph Berry and Worshipful Master Steve Berry. Brother Ron Chambers was Joseph's seconder and has offered to be his personal Mentor.
We all wish Brother Joseph Berry a happy and successful Masonic career!


Provincial Grand Master surprises David Reed
Philip Bullock PrGM paid a surprise visit to Lodge of Remembrance when he was pleased to announce that W Bro Dr David Reed PrGSwdB is to be invested as Provincial Junior Grand Warden in October 2018. David was invested as Provincial Grand Sword Bearer in October 2017 and has been an ever present member of the Active team.

He spoke with the web editor and expressed his great surprise when the Provincial Grand Master asked him to be Provincial Junior Grand Warden, David said "I was honoured to be Installed as the Sword Bearer in 2017 and never imagined I would be offered another Active Office. To be invited by the Provincial Grand Master to be one of his Wardens is beyond my expectation"

Philip Bullock said "I am very pleased David was able to accpet the appointment, I know he will be a great asset to the Province and bring much credit to his Lodge"
Remembering a promise made by Kevin
Back in October 2016 Kevin Logan announced in Open lodge of a request from Viv Slayford (his partner) asking if The Lodge of Remembrance would be willing to donate time to decorate the Swindon Dance studio's situated in the Swindon Town hall building. This would also give us hours to credit the 300 hours for 300 years initiaitive masterminded by Assistant Provincial Grand Master Stephen Bridge.

Due to Kevin's illness this wasn't pursued until W Bro Marcus Reeves was talking to Viv at our Ladies night. Time has gone on and attempts have been made to arrange a convenient time to actual commit to the work with availability of members of the Lodge fitting in with Swindon Dance studios busy programme of events.
However, diaries attuned , a date was agreed and July 21st and 22nd was chosen for when members of the Lodge armed with paint, brushes and rollers descended on the Studios loacted in Swindon's magnificent Town Hall.

There are 2 Rehearsal studios and a large theatre, all in need of a coat of paint and freshen up, most rooms with water damage, flaking paint and generally run down and tired. 84 man hours later, 10 brethren from the Lodge finished the first Rehearsal studio. Looking splendid and refreshed, it is now available classes to use, to the delight of Viv. Only one Rehearsal studio and a Theatre to go! which will hopefully be redecorated in the near future, when Swindon Dance's tight schedule permits.
Lodge members Bob Wheeler, Dave Barrie, John Wilmer, Marcus Reeves, Jack Gargett, Mike Oldland, Bob Barrow and Bro's Steve Kirwan, Stuart Newland gave there time to make this happen.

Item provided by Lodge Secretary Dave Barrie 23 July 2017
Prostate Cancer screening
Bro Kevin Logan, Secretary of the Lodge of Remembrance, held a screening session at Old Town's masonic hall, to help detect prostate cancer early through a simple blood test. He was supported by his partner, daughter and 13 members of the Lodge, who all gave up their time on Saturday 2nd April, clocking up some 56 hours to the Tercentenary 300 Hours appeal.
Kevin has been championing these screening sessions after he was given the devastating diagnosis of metastatic prostate cancer in June last year. Doctors have told him it will be controllable for two to five years, but it is not curable. It could have been caught sooner if he had been screened. Since his diagnosis the brave father-of-three has made it his mission to save other men from the same fate and more than 150 turned up to support him and get themselves tested.
In the drop-in session, nurses took a small blood sample to measure the Prostate-Specific Antigen (PSA) count. A traffic light system indicates whether a score is above average and if the person should seek medical advice. Results are confidential and those with high scores will be contacted directly by a consultant urologist who will explain what the next steps are.
Kevin said he was delighted with the response to the first screening.
"This is about screening, raising awareness and research into the condition. It makes me feel emotional and very proud that so many men have come today; some with neighbours, some with partners. If we can save one life then it is worth it. I get emotional talking about it because it is so important to me. I'm on a mission to make this screening, which takes minutes, available to everyone. There isn't anything that can be done for me, but I want to see the NHS start to screen everyone. I've already raised £4,700 and there has been a phenomenal response to this drive."
Keith Baker was among the 182 men tested on the day. "It was simple, a pin prick, everyone should be having it done," he said. "I admire Kevin for what he's doing. He's an inspiration to everyone and completely selfless. I'm proud to be supporting him today."
The cost of the tests were covered by monies raised and by donations on the day.
For more information contact Kevin at pcscreening@btinternet.com
Pictured above from L to R:
R Barrow, D Polden, P Reed, K Logan, Jo Bellman, C Scott, S Newland,
S Kirwan, R Chambers, N Baxter, J Burge, R Wheeler, D Barrie, A Eldridge
Pictured from L to R:
S Kirwan, D Gibbon, R Chambers, P Reed
Shropshire's Mysterious Case is now Closed
Bro Kevin Logan, Secretary of the Lodge of Remembrance, used his sleuthing skills to solve one of Provincial Grand Lodge of Shropshire's mysterious puzzles. After reading an article in their online magazine 'Out of the Blue' he searched the newly established Masonic membership records database managed by Ancestry.com – some 2m records predating 1923. If you want to read more of the story, click here.
Horse Racing raises over £600
Bro Bob Barrow is known as Swindon's answer to Elvis Presley but he might just become as well known for his expoits in the saddle. Following a very successful horse race night on Saturday 21 November which was attended by 60 people andraised over £600 for Swindon Women's Aid.
Catering was under the excellent direction of Carol Gibbon who enlisted the aid of her sous chef husband Danny to assist in the kitchen.
It is intended to present a cheque to Swindon Women's Aid at a lunch to be attended by representattives from Wiltshire Air Ambulance and Prospect on 21st February2016.
Annual Remembrance Lunch - Tremendous success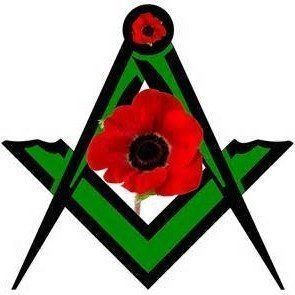 The Lodge of Remembrance No 4037 hosted their annual Remembrance Day carvery lunch on Sunday 8th November.

Lodge members have traditionally led the Swindon Masonic tribute to the fallen of the Two World Wars and the many conflicts since. Following the traditional march to the Swindon Cenotaph and the observation of the two minute silence, the Brethren and their guests returned to the Masonic Centre in Old Town, Swindon to enjoy a 3-course carvery lunch.
80 people attended the luncheon and were treated to a superb meal, created and served by Heather and Ian of Coleshill Catering and their staff. The 3-meat carvery was preceded by a warming Roasted Tomato & Tyhme soup and topped off with a seasonally delicious Plum Crumble & cream.
The auction of a Tower of London Poppy, in pristine condition in an unopened box, contributed significantly to the monies raised by the raffle. A total of £670 was raised on the day. This will be presented to a representative of the Royal British Legion at the Lodge's Charity Luncheon, to be held at the Planks on Sunday 21 February 2016.
Freemasons also honoured the war dead in Salisbury, Trowbridge, Devizes, Marlborough and many other towns and villages throughout the Province.