What now for Wiltshire Freemasons?
The Government has made the decision to once again put the country into 'lockdown'. This decision removes any flexibility whatsover and imposes restrictions on people from any household meeting indoors which means that Lodge and Chapter meetings cannot take place, and accordingly a suspension of all Masonic activity must be imposed..
Following a notice from UGLE concerning the rules relating to areas falling within national 'lockdown' restrictions, we have decided that until the situation changes a period of local suspension on all Masonic activity within the Province will apply with immediate effect to end on Friday 30th April 2021. This will be re-assessed at the end of March in line with Government regualtions and UGLE guidance.
There will be no need to issue a summons for a meeting that falls within this period of suspension.
Brethren, as we look forward to some sort of normality for our Masonic activities by May or June this year, it would be really heartening to see Lodges and Chapters working during the summer months to catch up with the ceremonies that have been missed during this suspension. Subject to the lifting of restrictions
.
We are sure our wonderful Province will come out of this crisis, stronger and more determined to treasure what our Freemasonry has to offer.
Provincial Grand Lodge AGM ....
The Provincial Grand Master Philip Bullock has announced that a special meeting of Provincial Grand Lodge will be hled on Friday 16th October.
Steve Lee - appointment in Mark....
Provincial Grand Master Philip Bullock is delighted to advise that the Provincial Grand Master MMM Andy Beaumont has announced that W Bro Steve Lee, currently DepPrGSec, will be appointed DepPrGM at the June meeting.
His immediate predecessor W Bro Bob Blake will be retiring as DepPrGM at the PGL meeting in June.
Congratulations to Steve from his friends across the Province.
In Touch - On Line
A new initiative In Touch - On Line is aiming to reach out to senior Lodge members who have not been able to attend Lodge meetings for a wide variety of reasons. Age and infirmity may well slow down a Brother, but it should not be allowed to restrct his ability to attend his Lodge meetings.
All too often it does, and the Provincial Grand Almoner Gary Dolphin is determined to find a way in which individual Lodges and the Province can provide a route back for Brethren who miss the Camaraderie of the Lodge and want to keep up to date with what's happening in Freemasonry in Wiltshire.

In Touch - On Line is a new software development by Swindon Mason Paul Sharp (Gooch Lodge No.1295) the facility will enable Brethren to choose how they access the Monthly Newsletter. For the first time the Provincial Newsletter will be available in an easy to read, adjustable format. It will also be available in an easy to use audio format.

Available on both IOS and Android platforms, the new
In Touch - On Line suite has been tested and approved for use on PCs, Tablets, iPads, Kindle and Smart phones.

What we now need is user confirmation that what has been designed works for YOU.
On Wednesday 4th December the team will be hosting a fish and chip lunch at the Swindon Masonic Centre, The Planks, Swindon. Starting at 12 noon and costing only £7 per head, the 75 minute session will enable Brethren to meet the team and receive a introduction to In Touch - On Line
This is an opportunity to bring together those Brethren who through the simple issue of age have had their Masonic visiting opprotunities reduced. It is the Almoner's view that this should not prevent them from keeping
In Touch - On Line
TWIGS is the choice
Ian Priest led the way as five Wiltshire Freemasons supported a Charity shoot at Barbury Shooting School, Wroughton to raise much needed funds for TWIGS a local Swindon charity.
Simon's Gone Fishin......
Simon Leighfield APrGM presented certificates to eight students from Uplands School who were guests of Wiltshire Freemason's fishing experience at Walters Lake, South Cerney. Uplands school aims to meet the needs of young people with severe or profound earning difficulties. and complex needs.

Hosted by Ian and Elaine Lever with support from Freemasons and friends, the days fishing produced some great catches, but most of all it was fun and generated a lot of happy smiles.
Grateful thanks to the wonderful team at Walters Lake who looked after everyone; and to the anglers who give their time and expertise to sit with a young student encouraging them to enjoy the thrill of catching a fish - not always the largest specimen (although the students are taught how to tell a fisherman's tale) where the thrill is simply seeing a young face light up with a huge smile.
View the gallery on Front Page for more images of the day.
SWA Survivors shop opens in Swindon......
On Saturday 7 September, BBC Points West presenter, Alex Lovell openedthe new SWA – Swindon Domestic Abuse Support Service (formerly known as Swindon Women's Aid) in Swindon Town Centre. The shop profits will support the charity's important work
A very 'unusua'l fashion show featuring Wiltshire Police and Crime Commissioner Angus Macpherson, former Swindon Mayor Junab Ali, Paddy Bradley Director of Swindon and Wiltshire LEP and Ian Jeary, Dorset & Wilts fire Service was watched by hundreds of shoppers and supporters.
Make-up teams from he Wyvern Theatre and Swindon New College made sure everyone was suitably 'prepared' for the fashion parade which showcased a wide range of evening wear, day wear and even a bridal collection.
The shop, a joint venture between the charity and Swindon Freemasons; who have financially supported the shop's renovation, is run entirely by volunteers and will sell a variety of previously loved items of clothing, furniture, books and toys among other things.
Ideally located in the Parade in the heart of the town centre, the shop will also provide a 'safe room' where victims can seek safety and privacy while a Domestic Abuse Advisor is contacted to support them.
Chair of the charity's board of trustees Nicky Alberry said: It has been an exciting few months watching everyone's hard work come to fruition. We are delighted to be working with the Swindon Freemasons on this new venture and we have a fantastic team of shop volunteers led by Carol Gibbon who work tirelessly for us. The money raised through the shop will provide a fantastic boost to the work we do supporting victims of domestic violence and abuse in the community and at our purpose-built refuge."
Peter Cowen, from Swindon Freemasons and the Project Manager, added; "We have received so much support and generosity from Freemasons Lodges, Swindon Borough Council and local businesses during the past four months. It has been hard work, but our efforts are now being rewarded with a superb shop, my sincere thanks to everyone concerned".
Buy a Cap for TLC
Available (across the bar) from Swindon Masonic Centre for £5 with all profits being donated to Teddies for Loving Care
Masters' in office......
Alzheimer's Support Wiltshire......
More than 600 local people with dementia and their families will be helped to overcome social isolation, thanks to a grant of £90,000 from Wiltshire freemasons.
The grant to Alzheimer's Support will help meet the costs of more than 40 community groups, including singing, art, exercise, and gardening groups, set up under the charity's Creating Connections programme. The programme aims to help provide meaningful activities, to participants, helping them to retain skills and spark friendships.
The groups deliver therapeutic benefits to those with dementia, but also offer a chance to socialise and relax. They also signpost to additional support, including information on benefits and other financial help.
People with dementia in large rural counties like Wiltshire are often particularly difficult to reach. The high cost of living in isolated communities, combined with poor transport links means that poorer families face particular problems.
With 21.5 percent, compared with the national average of 19.4 per cent, Wiltshire has a higher-than-average population of people aged over 65. It is estimated that there will be more than 9,000 people in Wiltshire living with dementia by 2025.
The grant from Wiltshire freemasons comes through the Masonic Charitable Foundation, which is funded by freemasons, their families and friends, from across England and Wales.
Alzheimer's Support Wiltshire CEO Babs Harris said:
"We're very grateful to Wiltshire freemasons for their generous grant that will secure the future of our much-needed and much-loved community groups. We can now plan and move forward in meeting the needs of local people living with dementia."
Philip Bullock, Head of Wiltshire freemasons, said:
"I'm very pleased we've been able to help Alzheimer's Support, which does outstanding work in helping local people and their families remain actively involved in their communities and live fulfilling, productive and meaningful lives.
New cell
Wiltshire Freemason appointed trustee....
Clive Emerson is a member of Downton Lodge and Chief Financial Officer at Help for Heroes; and is a freeman of the Chartered Accountants Livery company.
Clive said "I'm really excited to become a trustee of the MCF. The work done to combine the four national Masonic charities into one has been a big success. I look forward to the MCF continuing to work to put charity at the centre of what we do."
Moonraker donate £1,000......
The members of Moonraker Lodge No.8747 and their families visited the headquarters of Wiltshire Air Ambulance where they presented the team with a cheque for £1,000.
Picture courtesy of W Bro Hugh Johnson - Moonraker Lodge No.8747
Provincial Wardens for 2019/20 are named..
The Provincial Grand Master Philip Bullock has announced the appointment of WBro Lance Andrews AFM (R) as Provincial Senior Grand Warden, and WBro Richard Wright (L) as Provincial Junior Grand Warden for 2019/20.
Widows Sons visit Marlborough
Lodge of Loyalty No1533 meeting in Marlborough welcomed members of the Widows Sons to the Initiation of Bro Lance Goulding.
The Provincial Grand Master Philip Bullock was also present (albeit not in a leather waistcoat!!
Imageprovided by Andrw Botha
Christmas Appeal for Women's Aid

For the 11th year running, Members of Swindon, Highworth and Vastern Lodges supported the Swindon Women's Aid Christmas Appeal to help bring a little relief and happiness to the victims of domestic abuse and their children at what should be a joyous family time of the year.
On the evening of Thursday 13th December the Director of Swindon Women's Aid Olwen Kelly with three of her team welcomed Brethren, family members and friends laden with a variety of food, confectionery and other items to donate to the Appeal.
The donated items would be used to fill Hampers for the 19 mothers and 37 children residing at the Refuge over Christmas and families supported through Swindon Women's Aid Outreach Services.
Stephen Kirwan and his wife Elaine presented Olwen with a cheque for £200 on behalf of the members of Lodge of Remembrance No.4037. This money was used to purchase fresh meat (chickens etc), vegetables and fruit to ensure a good Christmas lunch for everyone at the Refuge.
Devizes welcomes the PrGM
The Provincial Grand Master Philip Bullock was joined by the three Masters in office at the recent meeting of Lodge of Fidelity No.663 which was held on 21st December.
From L to R; PrGM Philip Bullock, WBro. Ted Dredge, Fidelity; WBro. Phil Mackie, Moonraker; WBro. Max Phesse, Fiat Lux.
Zetland Court Christmas Fair......

What every man really wants - the opportunity to cruise the highways astride one of the most iconic of motor-cycles, the gorgeous Harley Davidson 114.

For Provincial Grand Master Philip Bullock who was attending Zetland Court's Christmas Fair with his wife Sally, the opportunity to try one of these majestic machines for size was too tempting an offer to resist, after all according to Harley Davidson "The main customer we focused the motorcycle on is the person who wants performance ahead of just about anything else" 
Now in its Fifth year, the Zetland Court Christmas Fair is an event not to be missed. It took place inside the Home where the festive atmosphere was wonderful.
A wide variety of trade stands, lots of games and festive live music was enjoyed by the many visitors who made the journey from near and far. And no one came from as far afield as Santa who arrived in style as the pillion passenger on yet another Harley Davidson.

Fish for fun......
And that's just what happens when you put keen anglers with youngsters from Uplands School in Swindon.
The Uplands Educational Trust (UET) a registered charity, provides learning, working and living provisions for young people with special needs aged 11-25 in Swindon.
Freemasons and their angling friends were delighted to spend a few hours fishing with the young people, and judging by the whoops of joy it seems that everyone had a great time.
Having seen the size of some of the 'monsters' caught in the waters of Walters Lake at South Cerney, your editor is sure that some of the stories, which will be told for months to come, should be taken with a pinch or two of salt.
I can guarantee there were no whales, sharks or crocodiles in the water, although when a freak gust of wind saw Ian Lever's favourite fishing chair end up twelve feet from the shore, Luke an intrepid angler and Ian's new friend for life wasted no time in stripping down to his underwear and plunging into the cold water to retrieve the chair. Fortunately for Luke and the readers of the website no pictures of Luke exiting the waters exist.
Provincial Grand Master Philip Bullock was on hand to present certificates to the young people and said - "I have witnessed some excellent fishing today with some of our young anglers landing some marvellous specimens. I am so very grateful to Ian, Elaine and all the volunteers who have shared theri love of fishing with the eleven youg people from Uplands"
The young people were chaperoned on the day by staff members of UET and safety equipment was provided by the Masonic Salmon, Trout and Fly Fishing Trust.
Very special thanks to the Walters Lake team and Lake Pochard Management Ltd for their support in providing refreshments for the young people and the volunteers.
Images show young people from UET with volunteers at Walters Lake (photos by kind permission)
White Horse Lodge Initiates welcomed......
A very happy Master Alex Laird with newly made Freemasons
Bro Mark Ryan (L) and Bro Chris Davies (R)
The Brethren of White Horse Lodge took the unusual step of requesting a dispensation to hold an emergency meeting (that is a meeting outside of their Regular meeting schedue) on Tuesday 5th June to Initiate a new Freemason. Following a first class ceremony attended by Deputy Provincial Grand Master David Davies, Bro Chris Davies (no relation to the Deputy) became, at 21 years of age both the newest and the youngest member of the Lodge.
Only a few weeks earlier on 15th May Bro Mark Ryan was Initiated into Freemasonry and for the time between his Initiation and Chris's held the honour of being the youngest member of the Lodge. How quickly such records can be broken!
The Deputy Provincial Grand Master said "I was impressed with the ceremony and was delighted to attend this very special occasion. It is absolutely right that Lodges take the necessary steps to receive candidates into membership as quickly as they can, and in the absence of a double ceremony, an emergency meeting is the ideal way to achieve this objective". 
News item submitted by Derek Dove - Secretary
Installation Feaver hits Methuen


©Picture by Phil Elliott - Shoot Me Photographic
Senior and Junior Wardens for 2018
The Provincial Grand Master has announced the names of his Wardens for 2018.
Senior Warden: W Bro Michael Barratt PPrGChap Sarum Lodge No.5137
Junior Warden: W Bro David Reed PrSwdB Lodge of Remembrance No.4037
Bros Barratt and Reed will be Invested at Provincial Grand Lodge on Thursday 4th October 2018.
Heading to Grand Lodge..................
The Provincial Grand Master Philip Bullock has pleasure in announcing the following promotions:
W Bro David Davies promoted to be Past Grand Sword Bearer (PGSwdB)
to be styled Very Worshipful Brother
W Bro John Reid promoted to be Deputy Grand Sword Bearer (DepGSwdB)
W Bro David Henery promoted to Past Junior Grand Deacon (PJGD)
W Bro Keith Clark appointed to Past Junior Grand Deacon (PJGD)
appointments to : Past Assistant Grand Director of Ceremonies (PAGDC)
W Bro Andrew Tiffin - to be invested 14th March
W Bro Michael May - to be invested 14th March
W Bro Des Morgan  - to be invested 14th March
W Bro John Smith - to be invested 25th April
W Bro Barry Cooper - to be invested 25th April
appointment to : Past Assistant Grand Superintendent of Works (PAGSuptWks)
W Bro Kevin Louis Martin - to be invested 25th April
W Bro Neil Ratcliffe - to be invested 25th April
New Assistant Provincial Grand Master
Provincial Grand Master Philip Bullock was a surprise visitor to Gooch Lodge No.1295 for their February regular meeting. At the end of a very accomplished second degree ceremony the PrGM addressed Lodge members and visitors and announced that W.Bro Simon Leighfield PrGSuptWks and a member of the Lodge will be Invested as the twelfth Assistant Provincial Grand Master of Wiltshire at Provincial Grand Lodge to be held at Salisbury on Thursday 4th October 2018.

Simon will be following in the footsteps of his father VW Bro Maurice Leighfield who was Assistant Provincial Grand Master between 1985-1991and Deputy Provincial Grand Master between 1991-1993.

It is the first occasion in the Province's long history, of a father and son being appointed to the high office of Assistant Provincial Grand Master, a landmark event which will have many archivists and history buffs searching the records of other Provinces to see if any other incidence of such a nature has occurred.

Philip said "I am sure every member of the Province will join with me in offering congratulations to Simon on his appointment and wish him every happiness in his term of office."

Tribute to W Bro Stephen Bridge
In announcing Simon's appointment Philip paid tribute to W.Bro Stephen Bridge PSGD who will be retiring from office at the next meeting of Provincial Grand Lodge.

Stephen was Invested as Assistant Provincial Grand Master in October 2014. To describe his initiation into the world of the 'Chain Gang' as eventful would be an understatement, it's safe to say that it was a difficult and sudden transition given the circumstances surrounding the health of VW Bro Peter Winton. Stephen rose magnificently to the challenge and during the past four years has proven to be able and erudite in performing the duties of his high office as Assistant Provincial Grand Master of Wiltshire.
The PrGM said "I am immensely grateful for the commitment and service Stephen has have given to me and the Province during the past four years. As a Province we are indebted to him for his work on establishing close links with Salisbury Cathedral, the mentoring programme and his education initiative."
Stephen also played a major role in the development of The Members' Pathway programme druing his membership of the Information Delivery Group at UGLE. The programme is now being rolled out across the country.
Philip concluded his remarks by expressing that he had no doubt that Simon will rise to the challenge and discharge the duties of his new office with the zeal and assiduity necessary to promulgate the genuine principles of the Institution.
Clean-up of the Locarno Site
Peter Cowen has written to all Swindon Lodges advising that there is to be a 'clean up' of the Locarno site which is the building adjacent to the Masonic Centre. The clean-up programme will commence on Monday 19th February.
A Contractor has been commissioned to carry out the work on behalf of the Developer of the Old Town Regeneration Scheme who is responsible for the building. The Contractor will clear the litter and other rubbish from the site and remove the overgrown trees and shrubs around the perimeter of the building.
The work will take up to a week and is being undertaken prior to the planned installation of new and more substantial hoardings being installed around the site to keep it secure.
The carefully planned work will be carried out with minimum disruption and inconvenience to the public, local residents and the Masonic Centre.
Philip Bullock joins trustees of.............
T
he Loganberry Trust - Viv Slayford and Des Morgan who with Kevin Logan formed the Loganberry Trust have asked Philip Bullock and Dr David Reed to join them as Trustees of the charity. Both Philip and David have accepted the invitation and have been registered with the Charity Commission. Viv Slayford said "Kevin had a great respect for Philip and David and when we were considering who to invite to join the trustees, Des and I had no hesitation is asking them to join us. The Loganberry Trust has its origins in Freemasonry, something Kevin was very proud to acknowledge."
Stephen Bridge invites you......
To join him and the Provincial Education team on Saturday 10th March at 10.00am at Freemasons' Hall, Crane Street, Salisbury when he will be hosting a Masonic Recruitment Workshop. The workshop is designed to help new Freemasons understand the process of recruiting friends into Freemasonry. To find out more simply email by clicking on to dlittle@isvgroup.com
Philip is back at his desk.....
The sunshine of Lanzarote seems but a distant memory as I gaze at the wintry scene outside the study window. The short holiday was a welcome break for Sally and myself which allowed me to recharge the 'batteries' in preparation for another exciting, event filled Masonic year: and 2018 certainly promises to be just that.

In January I suggested that December had probably been one of the busiest times I had experienced for many a year. Somehow I am sure I will be thinking that about every month from now on.
Freemason Mark all at sea...........
Battling the blistering winds and churning seas of the Southern Ocean would be a test of endurance for the toughest of sailors, but Swindon Freemason Mark Neilson, a member of Gooch Lodge No.1295, faced 80ft swells and 60mph winds on a 5,000-mile race from South Africa to Western Australia with just four weeks of training under his belt.

Mark had no previous yachting experience before he signed up to sail for 27 days with a crew of amateur sailors in The Clipper Race - a record breaking 40,000 nautical mile race around the world on a 70-foot ocean racing yacht. The race is divided into eight legs and a number of inidividual races, with each yacht equipped with a fully qualified skipper.
Mark completed the third leg across the Southern Ocean and returned to dry land safe and sound two weeks ago. 
He said: 'Sometimes we were going upwind into the waves in the middle of nowhere with the whole front of the boat being lifted into the air and smashing back down over and over, it was relentless.
Mark, the son of former heavyweight boxer Eddie Neilson who, during a notable career fought Joe Bugner and Frank Bruno, was born and bred in Swindon and now lives in Cirencester.
He said: 'I'd thought about learning to sail because I wanted to take my family on holiday to the Greek islands and I've always liked a challenge. I didn't realise how difficult it would be, it seems surreal now that I'm back at work.
Having returned to dry land and home, one of his first Masonic duties was to occupy the Senior Wardens chair for the Christmas meeting of Gooch Lodge, doubtless he had lenty of tales to tell at the festive board.
Stephen Bridge thanks Peter Cowan
On behalf of the Brethren of Methuen Lodge W.Bro Stephen APrGM presented a cheque for £100 to Karen from Swindon Women's Aid.
Swindon Lodges have always had a wonderful relationship with Swindon Women's Aid, who help change lives by giving advice and support to male and female victims of domestic violence and abuse.
The main impetus in supporting Swindon Women's Aid has been provided by W.Bro Peter Cowen who has organised the publicity, collection and even the wrapping of the Christmas donations made by the Brethren of the Swindon Lodges. At Easter, Peter ensured that the children at the centre had a plentiful supply of of chocolates and Easter eggs.
Peter who has been ably supported by his wife Christine over the last ten years has decided to stand down, to spend more time together. Provincial Charity Steward Ian Priest said "We thank them both for their commitment and passion in raising the profile of this wonderful charity, and we wish them all the best in their future adventures."
News item and images by W Bro Ian Priest.
Thank you Rita
It was a very special occasion when Rita Burrows was invited to join the PrGM Philip Bullock in the Lodge Room adjacent to the Bar in Swindon's Masonic Centre. But she needn't have worried as Philip and the team just wanted to say a huge thank you to Rita for her outstanding contribution to the Wiltshire 2017 Festival.
Images by W Bro Gary Dolphin.
Festival Jewel is permanent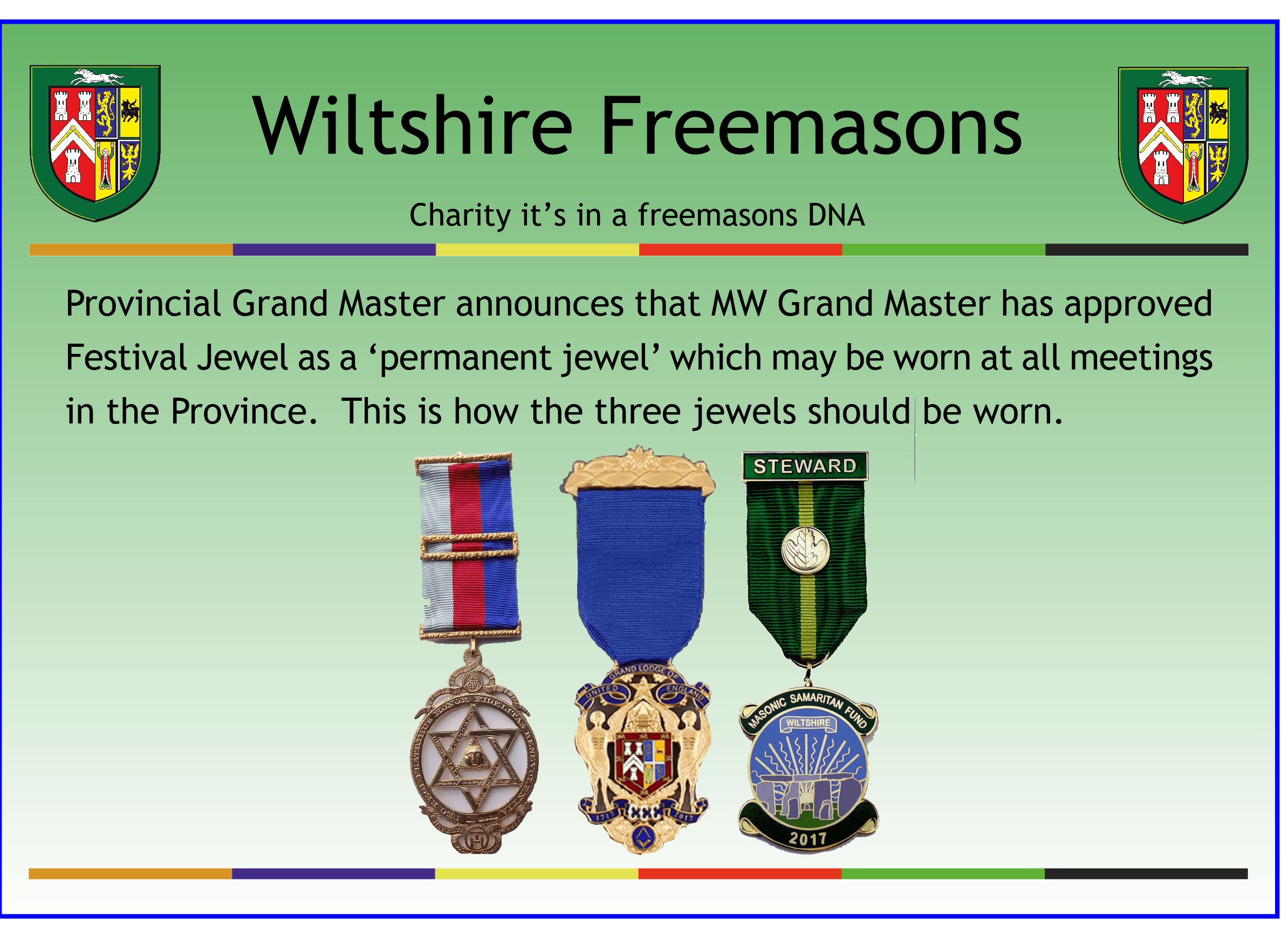 Ian Priest says 'well done'
I have often wondered what it would be like to be waiting for an envelope containing exam results to drop through the letter box. Well now I know, it's awful. Every time the post hits the floor you rush to see if its arrived' - in this case the 'if' I was waiting for was the results of the Masonic Charitable Foundation Community Awards. Voting closed on the 31st July and the results were to be announced on the 5th September.

I was pleased to see that Hope Nature Centre was the voters choice to receive £25,000 with John McNeill Opportunity Centre receiving £15,000. The Wiltshire Bobby Van Trust getting £6,000 and SMASH £4,000.

All four charities were present at Provincial Grand Lodge on Thursday 5th October and it was a wonderful experience to share our special day with their representatives. I certainly came away from Salisbury absolutely convinced that the MCF Community Award was going to make a real and positive difference in the work of each of the organisations.

The Masonic Charitable Foundation brings together the work of four national Charities which had been operating separately under various names since the early 18th Century.

The legacy of these charities and the principle of Relief underpins the work of the Masonic Charitable Foundation.

In 2016 over 5,000 Freemasons and their family members benefited from the support of the Masonic Charitable Foundation and also many others in the wider society from our charity grants and immediate response to disasters overseas.
Images by W Bro Adrian Wooster
And the party played on
CHIPPENHAM Masonic Hall was the venue for a warm Wiltshire welcome when Freemasons from three Wiltshire Lodges hosteda fraternal visit by members and their ladies of Zur alten
Linde Lodge from Dortmund in Germany.

The weekend event visit took place in Chippenham with the starter event being a welcome and short address by Assistant provincial Grand Master Stephen Bridge who spoke of the history of Freemasonry over 300 years.

To round off the occasion a "Gala James Last Tribute Concert" featuring the Mike Smith Big Swing Band and his singers was being staged in the recently refurbished Neeld Hall. The concert raised funds for Julia's House Children's Hospice opening soon in Devizes.
Eggsellent news for young victims of abuse
CHILDREN at a domestic abuse shelter are predicted to have an eggsellent Easter after Swindon Masons donated hundreds of chocolate eggs.
Managers at Swindon Women's Aid, which supports victims of domestic violence, welcomed the generous donation yesterday morning.
Olwen Kelly, director of Swindon Women's Aid, said: "Easter can be a very expensive time, especially for our mums with three or four children.
"We've got 22 families in our refuge at the moment, which includes 47 children.
"It's an absolutely wonderful gift. The mums can give out the Easter eggs as if they came from them."
Olwen said Easter can be a difficult time for children at the refuge. "We make the refuge as nice as we can, but it's not like home. A lot of the women who come to us who are fleeing domestic violence and abuse rely on their partners for money. "When they come to us they have nothing. Not even their toothbrush, let alone money for Easter eggs."
Children at the refuge are often away from their friends. Some are forced to stay away from school over fears for their safety. More than three hundred were deemed to be in significant danger of being hurt or even killed.
The charity runs a helpline for victims of domestic abuse, which last year received more than a thousand calls from worried victims.
Swindon Women's Aid has been supported by Swindon Freemasons in the past, with the organisation donating to the charity over the festive season. Olwyn said: "The Freemasons help us out every Christmas, but they don't advertise what they do, when the children receive their eggs on Easter Sunday they won't even know they came from the Masons."
She added: "This gift is about making life in the refuge that little bit easier. It's going to bring a bit of normality to a situation that is just not normal."
Light Blue reception at Warminster
The Provincial Grand Master Philip Bullock has invited Initiates and their wives or partners from 2015, 2016 and 2017 to join him and the Assistant Provincial Grand Master at a Light Blues Reception to be held in Warminster Masonic Hall on Saturday 6 May 2017 at 7.00pm.
It had always been the practice of the Province to meet informally with Initiates and their wives or partners during the course of the year but due to reasons beyond our control we have not held a meeting for a couple of years. However, a number of newer Freemasons have expressed a wish to re-introduce the meeting and we have decided to arrange two for 2017.
The format is a 'reception' as opposed to a lunch or dinner which we hope recognises the constraints placed on a member's family time
As a relatively new Freemason there are probably many questions new members may wish to ask, and more importantly the PrGM is sure there are some the wives and partners would like to ask. While not every question can be answered the PrGM is determined that the Province's policy of openness and transparency should be applied whenever possible and within the limits of propriety, he therefore looks forward to explaining 'what goes on behind closed doors'.
The evening will include a tour of the Lodge Room with an explanation of some of the furniture and items used during a ceremony. In addition there will a short presentation of the work of the Provincial Almoner and the role of the Masonic Charitable Foundation particularly as it relates to a Freemason's family. There will be time allocated to a short question and answer session.
Refreshments in the form of a buffet will be provided and the Masonic hall bar will be open.
The Provincial Grand Master asks that the Lodge Officers, particularly the Lodge Mentor encourages the whole hearted participation of 'younger Brethren' in attending the Light Blues Reception.
If you have not received an invitation please complete the google form and we will be in touch.
Appointment of David Davies
As the 2016 calendar year draws to a close it is again time to start considering the appointments and promotions for next year, however I must first look to the senior officers for the 2017-2018 Masonic year.

Prior to his illness and subsequent death, Peter Winton had advised me that it was his intention to stand down in any event as Deputy Provincial Grand Master with effect from October 2017. I reluctantly accepted this decision and began the difficult process of deciding who would be Peter's successor.

Peter was a most dedicated and loyal aide and I will miss him very much, not only for his support and tireless work within the Province of Wiltshire as Deputy during the past eight years and especially during my time as Provincial Grand Master; but also for his capacity to engender fun into fundraising, his zest for life and above all his wise counsel.
I also commend W Bro Stephen Bridge for his many initiatives and guidance as my Assistant Provincial Grand Master. His support is invaluable both in his role as Assistant and also in the other projects that he oversees. I will be pleased to reappoint Stephen as my Assistant Provincial Grand Master next year.
Philip Bullock launches 'News Letter'
The Provincial Grand Master has launched the latest link in the communciation chain to further enhanceawareness of what is happening in the Province.
Currently, the Province uses the Provincial website, twitter feed and the bi-annual magazine 'Across the Plain' to spread the news and today he introduces the latest method for keeping every Brother 'informed'.
Wiltshire Masonic News
Wiltshire Masonic News is the monthly news letter for Wiltshire Freemasons. Consisting of 4 pages it will contain current news items, up to date information and a diary of events.
To make sure the content is both relevant and up to date we need your help. Do you have a news item which you would like published, have you a special event, such as the Prestonian Lecture or visit for the Provincial Demonstration Team or maybe a Ladies Night; please let the Communciation team know by emailing
Your news, your views, your events - in your newsletter, on your website and your twitter site.
Thames cruise and dinner at the House of Lords
A 120 strong contingent of Wiltshire Freemasons will be travelling to London in October 2017 to join in the International Tercentenary celebration commemorating the formation of the first Grand Lodge. While some Wiltshire Brethren join Freemasons from across the world in the Royal Albert Hall others, with their wives and partners will enjoy a wonderful cruise on the river Thames followed by dinner in either the Cholmondeley Room at the House of Lords hosted by Black Rod or the Churchill Room at the House of Commons.
SPLITZ Support Services welcomes PrGM
Philip Bullock PrGM was welcomed by Fran Lewis the Chief Executive of SPLITZ Support Services when he visited their Trowbridge office. Also on hand to greet the PrGM was Francis Wakem Chairman of the Trustees. After a very interesting briefing on the work undertaken by SPLITZ Fran thanked Philip for the recent donation of £36,323 from the Masonic Charitable Foundation
Photo shows from the left: Philip Bullock: Fran Lewis: Francis Wakem.
Alan Barron takes a leap of faith for charity
Alan Barron a popular member of George Duke of Kent Lodge No. 8788 meeting at The Masonic Centre in Swinodn is no stranger to danger being a native of the North East and an avid supporter of Newcastle United, so it came as no surprise to discover he was willing to put his life on the line for a favourite cause.
On Sunday 18th September, Alan donned a parachute (well actually he was joined with super velcro to an instructor) climbed into a very small aircraft which soared into the blue above the town.
Freemasons join Rotarians at festival
Members of Lodge Elias de Derham No. 586 joined with friends from Salisbury Rotary Club at their popular charity weekend craft festival held in The Close adjacent to the magnificent Cathedral Church.
Elias de Derham members responded to a request from Salisbury Rotary to assist as marshals for this event as part of Wiltshire Freemasons 300 hours for 300 years initiative.
Stephen Bridge, Assistant Provincial Grand Master said "I am delighted that the Brethren and family members were able to join our friends in Rotary at this wonderful event providing much needed marshalling support. It really was a great team effort"
Photo shows from the left: Ron Johnstone, Shelagh Lound, Derek Gibbens, Caroline Henderson and Brian Henderson.
Prostate Cancer Screening - Chippenham
Following concerted promotion via local Lodges, in the press and on the radio, 135 men turned up at the Masonic Centre in Chippenham on Saturday 7th May to be screened for Prostate Cancer.
They were guided to the location by strategically placed signage, supplied by Bros Mark Whitmarsh and Ian Lever, and greeted by friendly volunteers who guided them seamlessly through the simple process, from registration to blood sampling to a cup of tea and a biscuit at the end. The Provincial Junior Grand Warden, Ian Dunbar organised the local help in the kitchen and Bro Kevin Logan's partner Viv provided the friendly welcome at the door.
Kevin's newly formed charity, the Loganberry Trust, promoted the event and the Graham Fulford Charitable Trust provided the phlebotomists to take the blood samples. Results will take approximately a week to 10-days to arrive by mail on the doorsteps of the 135 attendees.
Pictured above, when the session (and blood) was in full-flow, are some of the men, young and old, taking and awaiting their turn.
Provincial Wardens choose new transport
During a fraternal visit to the Provincial Grand Stewards Lodge in Warwick the Province's two Grand Wardens took the opportunity to go 'car hunting' - not that Bro Gary Dolphin's BMW is in need of replacing - yet!

We all know just how difficult making choices can be, especially when it comes to changing cars, but as luck would have it the ideal vehicle was soon to be found.

Now it has to be said that 'pink' is not necessarily everyone's cup of tea, nor would many set their sights on a Citroen 2CV but for Gary and Ian this was 'love at first sight'. So much so that they were seriously considering climbing in through the open sun roof just to test the driving position. Fortunately a friend of the owner just happened to be walking by thus narrowly averting a cross Province incident.

The best they could do was ask the Provincial Communciation Officer to take a photograph for posterity - and publication on the website (they didn't know this would happen)
If you meet Gary and Ian as they travel throughout the Province, the subject of cars would be a little 'ice breaker'
Provincial Membership Officer appointed
At the Installation meeting of Clarendon Lodge No. 5908 on Thursday 7th April 2016, the PrGM Philip Bullock was pleased to announce that he had appointed W.Bro. Kevin Logan PrGSwdB to be our first Provincial Membership Officer (PMO).

The PMO is reponsible for implementation of the Membership Focus Group (MFG) "Members' Pathway". This Pathway is a series of steps that a Lodge can follow to take a man who is interested in Freemasonry, but not yet a member, all the way through a journey to become a committed Master Mason. The Pathway has been developed by drawing on the experiences of many Lodges across our constitution.

A guidance booklet is being produced that will outline each step in the Pathway to help the Lodge to manage the steps, along with associated tools, techniques and, in some cases, training. The first part in introducing the Pathway is to pilot two critical stages in a selected number of Provinces.

The stages being piloted are:

Step 5: Preparing the prospective candidate for interview
Step 6: Interviewing the applicant
Wiltshire is proud to be one of the Provinces chosen for piloting Steps 5 and 6 of the Pathway.

To get a more in-depth view and regular Membership Focus Group (MFG) updates, visit www.ugle.org.uk/mfg
Charity reception a stunning success
Any fear that the inaugural Charity Presentation Evening would not be a success were dismissed when the Provincial Grand Master welcomed fifteen charities and over sixty Freemasons and their partners to Calne Masonic Hall on Wednesday 24th February.

The evening was designed to showcase the very special place charity occupies in Freemasonry and Philip Bullock was delighted to approve the newly designed display stand which carried the message - 'charity it's in a freemason's DNA' This theme will feature in a series of posters and pop ups which will be on display at Masonic Hall open days, special events and fetes.

The new display unit was designed by Ian Lever of Highworth Lodge No.9009 and printed and produced under the expert management of Luke Facey of Radnor Lodge No.4451

Ian Priest - Provincial Grand Charity Steward announced the fifteen recipients of cheques from the Province, afterwards he said "I was really pleased to welcome representatives of the charities to Calne and it was so good to hear from them about the work each of their organisations carries out in the community".
The evening was hosted by Barry Cooper and members of St Edmund Lodge No.4714.
Provincial Grand Master announces Wardens for 2016/17
Larry Baldry - Provincial Senior Grand Warden
While attending the regular meeting of Lodge of Good Fellowship No. 8388 Philip Bullock PrGM took the opportunity to announce the appointment of Bro. Larry Baldry as the next Provincial Senior Grand Warden.
Larry is married to Siobhan who he met while both were serving officers in the Metropolitan Police Service. Having worked for the Metropolitan Police Service for 27 years, mainly as a detective in Inner London and the West End, Larry retired to rural Wiltshire where he put his skills to use as benefit fraud investigator for the local council.
Larry and Siobhan have lived in Manningford Abbots near Pewsey for 20 years . His hobbies include fly fishing and clay shooting.
Initiated into Arnold Lodge No.1981 (Surrey) in 1994 he became a joining member of Lodge of Good Fellowship No. 8388 which meets in Marlborough in 1997. He was Installed in the Chair in 2004.
As a Royal Arch Mason - Larry was Exalted into Methuen Chapter in 1997 and served as MEZ in 2006.
Larry has served the Ancient and Accepted Rite (Rose Croix) as District Recorder since 2007.
Merv Johns - Provincial Junior Grand Warden
Highworth Lodge No. 9009 was the next port of call for Philip Bullock PrGM when he invited the Lodge Director of Ceremonies to 'summon the Tyler' - Merv Johns having been presented, the PrGM announced his appointment as the next Provincial Junior Grand Warden.
Born in Cornwall and educated at Penzance Grammar School, Merv joined the Royal Air Force and after trade training was posted to Wiltshire. He enjoyed a 22 year career of serving around the world which included a 3 year posting to Hong Kong. Upon retirement he settled in Swindon founding Chromatic Arts in 1987.
Merv has been married to Celia for 35 years and they have identical twin boys now aged 32.
Initiated into the Highworth Lodge No.9009 in 1996 he was Master in 2002 and again in 2010.
A keen Royal Arch Mason- MervJoined Vale of White Horse Chapter at Faringdon in 2003 and became MEZ in 2009.
A keen golfer, Merv is Secretary of the Wiltshire Masonic Golf Society and continually on the lookout for recruits of any standard to join them in matches against the other Provinces.
Philip Bullock welcomes musical ties with Youth Orchestra
Philip Bullock welcomed young musicians to the Masonic Centre in Swindon on Monday 15 February for a promotional photo shoot.

Under the professional eye of photo expert Phil Elliott the six members of the West of England Youth Orchestra and their instruments were pictured with the Provincial Grand Master (no mean musician himself).

The Province is supporting the Orchestra's education programme with funding to enable the development of talented musicians with expert tuition.

For some this might appear to be a departure from the 'normal' charitable work undertaken by Freemasons; the Provincial Grand Master believes that helping a young person to develop their full potential is a worthwhile extension of that virtue which distinguishes a Freemason's heart.

The Youth Orchestra performs at The Wiltshire Music Centre, St Laurence School, Bradford-on-Avon.

Picture shows Philip Bullock with members of the Orchestra - photo by Phil Elliott

Street Link makes a difference
A story we learn from an early age is that of the Good Samaritan who sought to ease the pain and distress of someone he did not know; and yet sometimes it is all too easy to pass by on the other side of the road ignoring the plight of someone in distressed circumstances.
Today I heard from the wife of a Freemason, a mother herself she witnessed a young man sitting on the pavement every day and knew he must have been sleeping rough in her home town. She bought him hot drinks and food and asked him if he was okay, but felt it wasn't quite enough - she rang StreetLink.
StreetLink aims to offer the public a means to act when they see someone sleeping rough. You contact them by email and answer a few questions about who you are concerned about and they take it from there.
My friend made contact with StreetLink on Monday afternoon and by Wednesday had received an email telling her he had been found temporary accommodation and was receiving help.
She said "I can't tell you how happy that made me feel, my perfect Christmas present".
Splitz gets cash boost
The December meeting of Lodge of Concord No. 632 witnessed both the Senior and Junior Past Provincial Grand Master taking their place in the North East accompanied by the Provincial Grand Master - Mark Master Masons. This Christmas theme (three wise men) was further enhanced when Mark Manning - Master of the Lodge presented £2,000 to Splitz Support Service.

Splitz Support Service has been chosen to deliver a programme which will provide an easy to access, high quality service offering a range of crisis-interventions, including support to access alternative accommodation, safety planning, healthcare services, working to reduce immediate risk and supporting individuals to stay safe. The service will support anyone aged 16 or above who is at high risk of harm from DVA irrespective of disability, ethnicity, sexuality or gender.

Wiltshire Freemasons are delighted to support the work of Splitz Support Service through individual Lodges as well as at Provincial level. Lodges wishing to know more about Splitz Support Service can contact Fran Lewis who would be pleased to arrange a presentation to the members and families of your Lodge.