St Aldhelm Chapter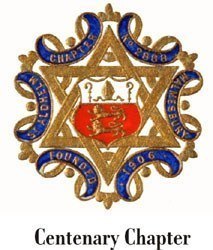 Chapter No 2888
Meeting at the Masonic Hall, Emery Gate, Chippenham, Wiltshire.
The Chapter meets at 6.30pm on the first Tuesday in February, May, October and December.
Installation meeting in February at 6.00pm
Fifty years a Companion 
Excellent Companion John Northover was Exalted into the St Aldhelm Holy Royal Arch Chapter on the 5th December 1966.
The PGSupt Excellent Companion Ian Jacobs rose on behalf of the Province to make the presentation to E Companion John of a certificate to commemorate his fifty years in the Holy Royal Arch, he also stated that he has known John for over forty year, not only within Masonry but outside in social activities such as sporting events, where they would travel around the country together having all sorts of fun. He then presented John with an engraved glass showing the Provincial Crest and an inscription. Excellent Companion John suitably replied.
Supplied by Excellent Companion Nigel Reed JP Scribe Ezra
Presentation of a wine decanter from the members of the St Aldhelm Chapter
The Three Principals of the St Aldhelm Chapter, Excellent Companion Tom Sheppard (Z), Excellent Companion Tony Jarvis (H) and Excellent Companion Chris Harvey (J), were pleased to welcome Excellent Companion John Northover into the Chapter as an Honorary member having been balloted for at the October Convocation.
As a token of gratitude and respect Excellent Companion John was presented with an engraved wine decanter to mark the hard work and support he has given to the Chapter over his fifty years of service.
Supplied by Excellent Companion Nigel Reed JP Scribe Ezra
New 'threads' for the Three Principals
To mark his fifty years in the St Aldhelm Chapter Excellent Companion John Northover presented a full set of Principals robes to the Chapter.
Excellent Companion John Kerslake arranged for the manufacture of the robes by a local seamstress in Malmesbury, he also acquired sections of the material used and refurbished the Sceptres to match the new robes.
The members of the Chapter showed their gratitude to Excellent Companion John Northover for his generosity.
Supplied by Excellent Companion Nigel Reed JP Scribe Ezra